Main Service

Value
Integrity & Reliability
Teamwork
Commitment
Creativity & Motivation
Trustworthiness

+91.281.2224448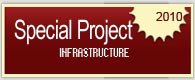 About
Us
Kishan Infrastructure Pvt. Ltd. is well established contractors of 'AA' Class with about 12+ years of experience. We take over mostly civil works like Dams, canals, Buildings etc.

The company's managing director Mr. R. G. Vadalia (B. E. Civil ) has experience of about 20+ years. He has work as Assistant Engineer on National Highway Projects for 10 Years in R & B Department and 12 Years as a Civil Contractor. We are having project manager with an experience of more than 10 years in managing construction in the field of civil engineering works, similar works along with engineering, technical & other key personnel with adequate experience in civil engineering works.

We are having sufficient technical & supervisory staff and necessary plants and machinery, and hence, we are capable to mobilize our staff and equipments even for carry out any large projects with necessary time schedule.
Mission
"Plan, design & execute safe built infrastructure in a professional manner for Government as well as Non-Government institutions."


Vision
"To achieve reputed and respectable position in Construction Industry by applying magic of science and mathematics of infrastructure and provide leadership in Construction industry by becoming synonym & trend setter."
"To be a responsible corporate citizen committed to the social awareness/cause."



Values
Integrity & Reliability
Teamwork
Commitment
Creativity & Motivation
Trustworthiness



Aims &
Objectives
Planning, designing, construction and maintenance of assets related to road communication and build social infrastructure for Government as well as Non-Governent Institution through a well developed system with emphasis on quality, durability, functional efficiency, fulfilling project purpose, in-time completion and maintained with green and eco-friendly environment in conformity with the declared policies of the Government and last but not least for the benefit of the public at large.